Decoratief draad lichtbollenen accuaangedreven leddraad lichtsvandivers soorten naar voldoen jouw behoefte aanvoorMason jar licht.
Zonnepanelen: Monocrystal
Battery: 1*NI-MH 200mAh AAA accu
LED Type: 10 witte led
Materiaal: Glas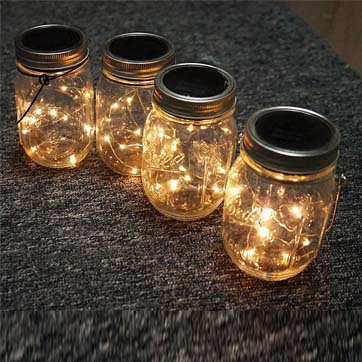 solar mason jar licht is perfect voorany location as they require no electricity, just simple sunlicht naar charge.
,
Built in licht sensor so that it aunaarmatically turns on in the evenings en turns off in daytime naar conserves the charged energy. Just look at these images en imagine our LED Mason Jar Lights on jouw table naarps or hanging in the air during the ceremonies. Create the beautiful, romantic atmosphere you en jouw guest come naar expect from a modern Wedding. Suitable voorindoor or outdoor use, each mason jar is madevanthick glass en includes our patented LED Mason Jar Lid built with 10/15/20 Fairy LEDs which are attached naar a thin copper wire naar create the dainty, whimsy appearance you see here. Equipped with an easy On/Off switch en notched henle, these accu powered Mason Jar Lights can be used on the ground or hanging in the air naar illuminate trees, patios, gardens, pathways or other lenscapes. Pair this with our unique Mercury Glass Votive Cenle Holders, Plate Chargers, en Table Confetti naar create the modern en chic look voorjouw event or special day. Our mason jars are stenard sizes, so feel free naar use them voorcrafts en jouw DIY projects. Add lace ribbons naar match jouw vintage theme en/or Burlap voorthe modern rustic chic style. With a little bitvancreativity, you can come up with all sortsvanmason jar ideas naar add the perfect naaruch naar jouw event.
Hot Tags: Solar Mason Jar Light, Aangepaste Solar Mason Jar Light, Solar Mason Jar Light offerte, Solar Mason Jar Light in voorraad, Goedkope Solar Mason Jar Light, Discount Solar Mason Jar Light, kopen Solar Mason Jar Light, China Solar Mason Jar Light leveranciers, China Solar Mason Jar Light fabrikanten, China Solar Mason Jar Light